Well, I've totally outdone myself with today's healthy chocolate pudding recipe… this is damn good!!
As you know, I always look for ways to make seemingly unhealthy foods into healthy fat-burning versions. Some popular recipes of mine in the past were when I made a truly healthy chocolate fudge (super popular), as well as my recipe for the worlds healthiest cheese steak.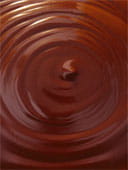 But today, I want to show you my recipe for an amazingly healthy fat-burning chocolate pudding that's high in fiber, healthy fats, protein, and low in sugar, with ZERO artificial sweeteners and NO added sugars!
I know… I'm a freakin mad scientist with this stuff. But I actually got the idea for this recipe from Mens Fitness magazine… however, I changed it all around because I didn't like some of their ingredients, plus their recipe was too high in sugar in my opinion…and I added more protein.
Some of the ingredients may sound weird for a "pudding", but trust me, everybody I know that's tried this has loved it!
Here's the Geary version of Healthy Fat-Burning Chocolate Pudding:
(This recipe will make about 2-4 servings and is a great healthy dessert or late night snack)
Put the avocado and almond butter into a bowl and mash together with a fork until smooth. Then add all of the other ingredients into the bowl and mix together vigorously until all is mixed and smooth. If you're good with a food processor, you can use that too, but I just mash everything together by hand.
If everything went right, the consistency will be similar to pudding… except normal pudding makes you FAT with loads of sugar! My healthy pudding recipe will actually HELP you to burn fat, control cravings, and satisfy your body's need for micro-nutrients, protein, healthy fats, and fiber.
If the pudding ends up too thick, simply add a bit more almond milk or coconut milk for more moisture until the consistency seems right.
If you want to get a little wild and add some more nutrient-rich additions, feel free to add some chopped pecans, chia seeds, rice bran, or walnuts at the end. And it tastes great to top this dish with some sliced strawberries!
Watch This Amazing Video For More Information
Source White Market